Tag Archives: BattleBlock Theater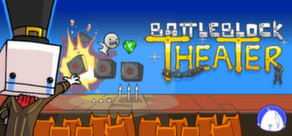 From the developers of Castle Crashers comes yet another warp and twisted adventure involving prisoners, blocks, and nefarious cat overlords. You will be enslaved by the game's charm and demand all of your friends start playing this game right meow. Each prisoner you meet is saved in your inventory so you can swap with your friends or sell them on the marketplace. Weapons too. The goal is often simple. Collect gems to open the exit and make it there. Getting there is often plagued by water, cats, and even more hazardous traps. Play alone or online or with your friend sitting next to you, in any form, the game is extremely fun and never stops leaving a grin on my face. It only took like two years for this to come from Xbox 360 to Steam but it seems much longer. The wait was worth it and I am happy to finally play it.
If you are the same as me, you have been patiently awaiting  Behemoth Studios  follow-up to the extremely addictive, and genuinely peculiar gem Castle Crashers. Well it's here and boy is it strange, but what would you expect from a company that once brought you a chase scene where a knight rides a diarrhea- ridden baby deer-back on a crap-fueled voyage through a sawmill. Battleblock starts aboard your super best friend, Hatty Hattington's vessel of good times, the SS Friendship, with it packed to the brim  with with your next closest friends all ready for their typical happy afternoon excursion. It doesn't take long for things to take a serious turn for the worse when the friends are cast ashore and you and your buddies are left as prisoners and participants in the newly possessed Hatty's unethical theater of violence by the it's catty inhabitants.